Bind your apple ID to 3utools App is a must to work with 3utools. So you no need to have doubt about subscribing Apple id to 3utools. As a wide spread software around the World it serves to its customers in a faithful manner.
3utools from its beginning provide us a grateful service to customize our i-Phone, iPad for free. With the time it is expanding its services widely to us. As they says All in one tools package brings you a list of tools to modify your iPhone, iPad respectively. So you have to just connect our i-devices to the computer which preinstalled 3utools. From there you can do many with this.

What is Apple ID?
Your Apple ID is your personal account of the Apple world. With this account you can access all of Apple services and products like App store, iCloud and others. So with this you can have the best experience with your Apple devices and services. Keep your Apple ID securely and do not share it with others.
Why you need an Apple ID?
When you get a new apple device you can sign in with your Apple ID to access all your personal data in i-cloud like your files, Photos, contacts. Also you can download previous purchases from Apple store and iTunes and sign in to Apple music. If you ever lose a device you can look for it by signing in to Find My app. Also your Apple ID is your account for i-Massage and face time. With so many features and personal info tide to one account you can probably see everyone should have their own Apple ID.
Why you need to bind Apple id to 3utols?
According to 3uools after binding your Apple ID, 3uTools can help you purchase the free authorized apps from ios App Store using this ID. As well as make in-app purchases and login to Game Center.
Bind your Apple ID to 3Utools
Binding Apple ID to your 3utools App is an easy step before using 3utools efficiently. You can do limited tasks without binding apple id but essentially you have to submit it to 3utools.
[ Apple ID is Specially for firmware app and game downloading ]
How to Bind Apple ID to 3utools?
It comes under settings of 3utools. So you can open 3utools settings and bind it. Also you can have a direct open to Apple ID bind under Apps section as follows.
Open 3utools on your PC/Laptop and connect your Apple device to it [iPhone, iPad]
Then open Apps on 3utools header and click on Bind next as in the image.

After that you can enter Apple ID and password accurately and then click on Bind and wait for few seconds.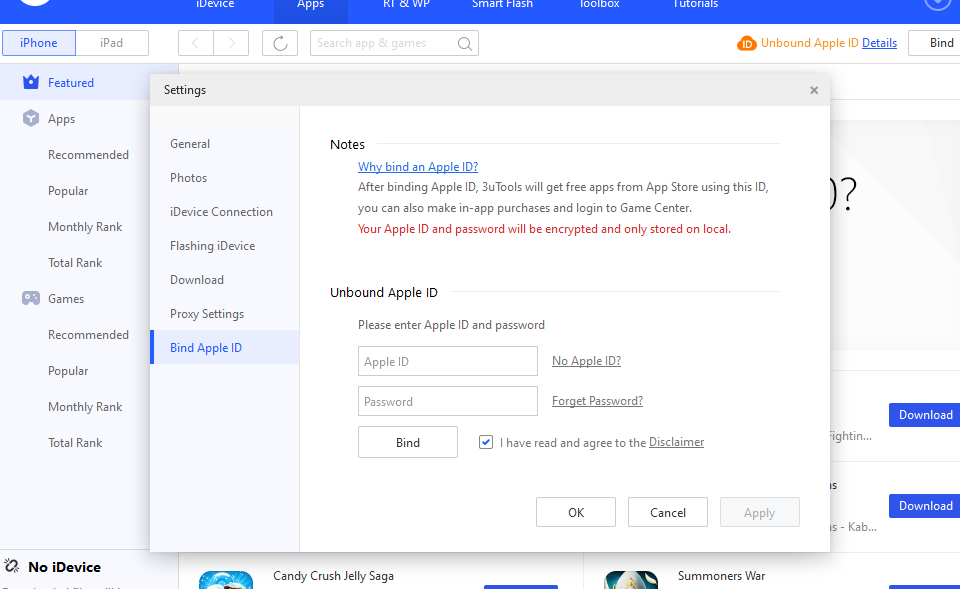 If you have done it correctly then you will get this massage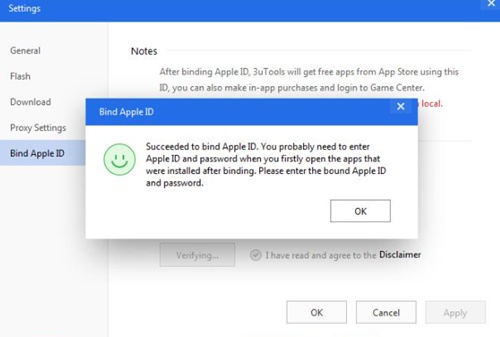 Fail to Bind Apple ID to 3Utools
Confirm that before binding the Apple ID to 3utools, you shaved connected your iPhone, iPad correctly to your PC/ Laptop. If you get connection failure then you get this type of massage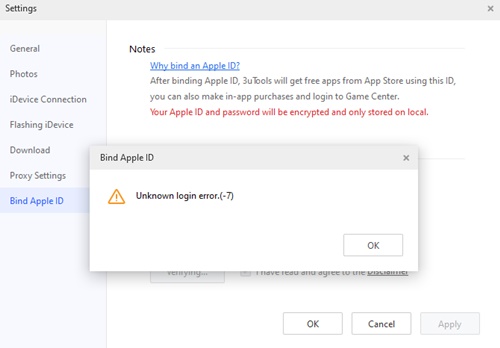 Enter your Apple ID and password as it is and don't make mistakes. IF you have enter it wrong, the it will say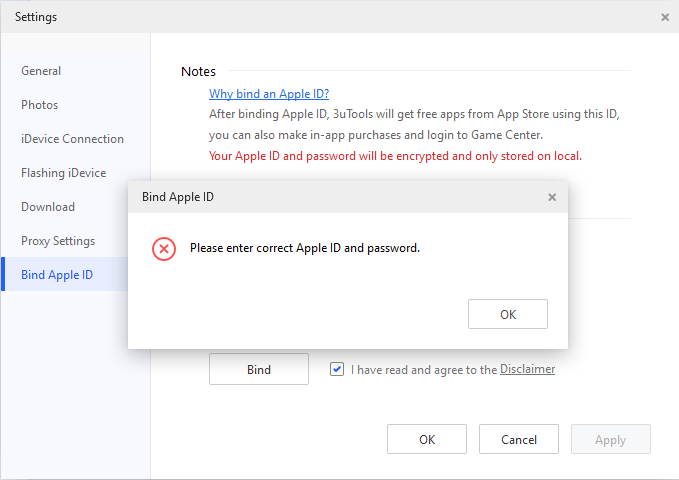 No worries you can bind your Apple ID to 3utools easily and keep on mind to expel above mistakes.
Download TutuApp IOS