With 3uTools for Windows , you get a numerous collection of tools that allows you to handle your iOS device in a fast and smooth fashion. The services it provides include file management, flash and jailbreak, view different statuses of iDevice, backup and restore data, download apps, make ringtones, compress photos, migrate audio and video, delete icons, garbage cleaning and many more. The newer versions of 3uTools Windows include some advanced features like SHSH backup, baseband upgrade and downgrade.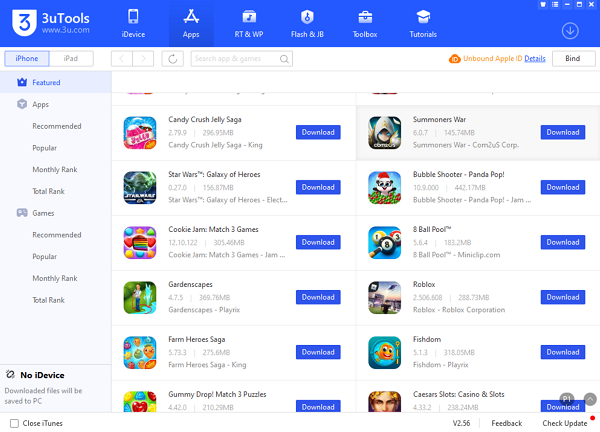 What is 3uTools Windows ?
3uTools for Windows is an all in one tool for Apple users who own Windows computers. It lets you get access to a wide range of delightful features for no cost. You can effortlessly manage your iOS data, photos, apps, video, contacts, ringtones and many more. The main usefulness of the app comes from its ability to jailbreak and flash iOS. Jailbreaking is about removing restrictions imposed on iDevices by Apple. Once your device is jailbroken, you can download third party apps which are not available in itunes app store. Jailbreaking enables you to freely enter anywhere in your device file system. And it will unlock some hidden and unused features of your iOS device
The one click jailbreak process of 3uTools for Windows is much easier to follow. Another great function of the tool is that it allows you to view different statuses of your iDevice like activation, jailbreak iCloud lock. You can also get detailed reports on your iOS device like model number, serial number, IMEI.
3uTools for Windows lets you backup your iOS files into your PC so that you no longer need to worry about losing your important iOS data.
3uTools for Windows is also a brilliant option to download plenty of useful apps, wallpapers and ringtones. Other features of the tool include junk clean up, photo compression, import and export multimedia, icon management, convert video and audio, modify audio, make ringtones and many more.
The latest 3uTools for Windows
Latest version of 3uTools which brings some advanced and updated features for free. The 3uTools 2023 for Windows will runs perfectly on most of the current Windows operating systems including Windows 10, 8.1, 8, 7 , Windows Vista and XP (64 bit and 32 bit) and it is compatible with any Apple device (iPhone, iPad or iPod touch ) running iOS 4 or above.
What's new in 3uTools for Windows
You can find some advanced functions in 3uTools which brings your device experience to a new level. Versatility and usefulness of the tool has been improved with the enhanced and most up to date features. Here are some of the advanced features you can find in the latest 3uTools version:
Optimized easy flash option
Added new device adaptations like iPhone 13
New computer screen recording function
updated to a brand new jailbreak version
Optimized delete invalid icon feature
Issues related to IPA signature has been optimized
Fixed some bugs
New layout
Support downloading apps in Backup Viewer.
support audio books in m4b format
With these advanced and updated features in 3uTools 2023 for Windows, the tool manages to maintain its recognition as the best all in one manager for Apple devices ever.
FAQ'S
1. Is 3uTools for Windows safe to use?
3uTools for Windows is an absolutely safe app to use. The tool is properly tested before releasing to the market. It does no damage to the files, data or any of the systems on your device. But you have to be careful when downloading unofficial apps on your jailbroken iDevice. Because jailbreaking may void your device's Apple warranty.
2. Can I install 3u Tools for Windows directly to my iPhone?
No, You cannot install 3uTools directly onto your iDevice. First you need to download the tool on your Windows PC or laptop. Then you have to connect your iDevice with the PC using WiFi or the USB cable. 3uTools works normally on any Apple device including iPhone,iPad, iPod touch with iOS 4 or above.
3. Can 3uTools App use to remove iCloud lock?
No 3uTools for Windows doesn't have an option to remove the iCloud lock. However you can use the flash and jailbreak function of 3uTools to unlock your iDevice and bypass the activation lock.
4. How to jailbreak my iPhone with 3uTools ?
3uTools for Windows is a premier jailbreaking tool available for any Apple device running iOS 4 or above. To jailbreak your iDevice, you need to connect the device to the computer via USB cable and go to the Flash and JB section of the app. Choose the right tool for your iOS version and follow the onscreen instructions to complete the jailbreaking process.