Download 3uTools for iPhone, iPad, iPod Touch and PC
Best all in one tool available for all iOS devices, Windows and Mac PCs. Jailbreak your iPhone or iPad , manage, back up and transfer data, documents and media from your iDevice in a fast and easy fashion.
3uTools is one of the most efficient and reliable tool which enables you to manage,restore and jailbreak your iOS device. The tool supports all devices running iOS operating systems including iPhone,iPad or iPod.
3uTools is basically a jailbreaking tool which allows you to jailbreak your iOS device so that you can enjoy unrestricted access to your device file system and download unofficial apps on it. Although it is a jailbreaking tool, it doesn't require you to jailbreak your idevice to get its service.
Apart from jailbreaking, 3utools offers you a number of other amazing features like managing files, customizing your device, create and restore back up files, garbage cleaning, check different statuses on your phone and many more.
All of these cool features have collectively contributed to raise it to a perfect all in one tool which would definitely make your device a lot more smarter, awarding you a variety of amazing benefits.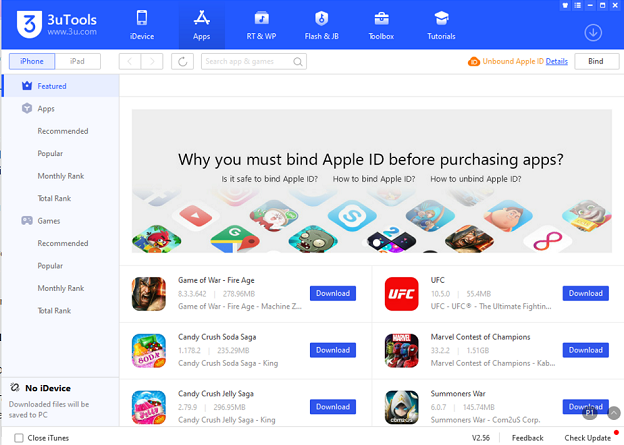 How to use 3 uTools for your iOS device.
You need to have following things.
Windows PC or Laptop
Data cable
Internet connection
First you have to download 3uTools on your Windows PC or laptop. Then connect the PC or laptop with the idevice using the data cable. Now you can get the services of 3uTools for your iphone,ipad or ipod.
Lets look at some of the key features of 3utools in detail.
1.Jailbreak and flash capabilities
3uTools is mainly identified as a jailbreaking tool.
Jailbreaking is the process of removing the apples restrictions imposed on iOS devices. Once your device is jailbroken, you can have more control over it, aaccessing to some unused and unseen features. 3uTools allows you to jailbreak your iOS device in a single click. It can quickly identify and automatch the version of firmware of your iphone and jailbreak it accordingly. Anyway, please note that jailbreaking is illegal and you may void your apple warrenty.
3uTools is a brilliant option to flash defferent version of iOS firmware to your iphone.3uTools lets you flash your iOS device in normal mode, DFU mode, and recovery mode.With multiple flash option you can flash or activate multiple devices at the same time.
Pro Flash option enables you to see the entire process. With easy flash option you can get firmware updates without having an apple id.
2. Easy way to manage documents apps, photos, music, ringtones, videos, wall papers and many more.

3uTools is an efficient file management tool which enables you to manage files on your iOS device effortlessly. It lets you identity files that you want to move to your idevice quickly.You can set and customize your device ringtones, wall papers with 3uTools. And 3uTools is an easy way to share wall papers from your computer to your iOS device. You can compress photographs and migrate photos,vedio and many other multi media files between devices.
It allows you to manage and rearrange icons on your device home screen in a quick and smooth fashion.
3. Excellent way to download variety of items.
3utools is a free tool which features the option to download wide range of items on to your iOS device.More importantly, It lets you download unofficial apps which are not available in Apples app store. Items which could be downloaded include genuine iOS applications, wall papers and ringstones.
4. Ability to create Back up files
3uTools allows you to backup and restore all of your data. You can back your devices data up to PC and restore them in your device when it is necessary. So, you dont need to worry about losing your data any more. And this feature is very useful in protecting important data of your device.
5. View detailed information

3uTools is a free application which allows you to monitor defferent systems in your iOS device. It lets you get access to detailed information about your device. You can see defferent stasuses of the device such as battery , icloud lock, jailbreak and many more. It also enable you to view the model and iOS version of the device, storage capacity, model number, type of product, IMIE and many other information. If you need further information, you can get them by simply clicking on More option. All the information you get could be saved on a text file, if needed .
6. Garbage cleaning
Your device may run more slowly when it has lot of garbage which consumes phone memory.
3uTools is an effective tool that allows you to clean unwanted stuff in your iphone or ipad and improve running speed of the device. 3uTools is able to identify junk files and other duplicate files very quickly.
7. Simple and clean interface

3uTools offers a simple and smooth interface where users can easily find the main functions of the tool. Once the tool is downloaded, you can easily navigate the app with its user friendly interface and manage or customize your device in a fast and easy fashion.
8. Many other cool features

Apart from above, there are many other features you can find in 3uTools like simulating your GPS position, options to reboot or shut down your device.
With all these amazing features, 3uTools has become one of the best and most useful all in one tool for all iOS users
Frequently Asked Questions
Is 3uTools free?
Yes, 3uTools costs you nothing. You can download and install 3uTools without paying a single dollar.This is a huge benefit when it is compared to the services it provides as an all in one tool.
Is 3uTools a safe app ?
Yes, it is absolutely safe app to use. 3 uTools contains no malware and doesnt cause any harmful impact on the iOS operating system of your idevice.
Do I need to jailbreak my iphone to use 3uTools?
No, you dont need to jailbreak your iOS device to run 3uTools on it. 3uTools perfectly works on both jailbroken and non jailbroken idevices.
Does 3uTools work on android devices ?
3uTools is specifically designed for iOS platforms.  It doesn't support for android devices.