If you are looking for the most efficient file management tool for your iOS device, even now in 2022 3uTools is the best option. 3uTools is a perfect all in one tool that comes with wide range of functions and features. The services it offers include jailbreaking, file management, apps downloader, converting video, real time log, garbage cleaning and many more. The best things is 3uTools is absolutely free to use.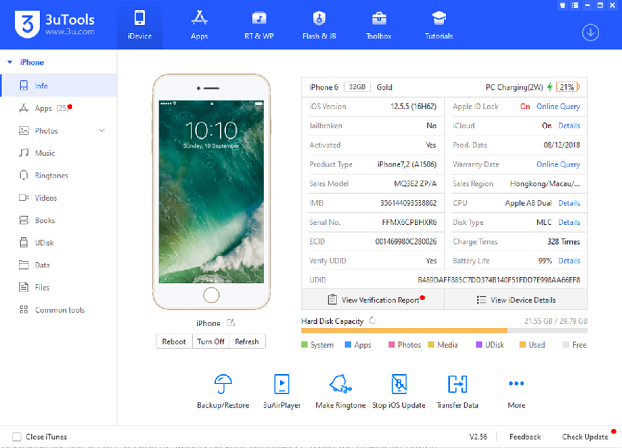 Once you download and use 3uTools for your iOS device, you will be amazed with what it offers.
It is one of the most reliable tool for flashing and jailbreaking of iOS devices. One click jailbreaking process with 3uTools is so simple and easy to understand. It supports iOS flash in normal mode, DFU mode and recovery mode. The tool can auto- match the available software in the iOS device.
3uTools is a perfect file and data management tool for iPhone and iPad. You can manage all your apps,images, music,ringtones and all sorts of multimedia files in a very quick and smooth manner. It allows you to download your favorite apps, ringtones and wallpapers. You can clean all unwanted stuff on your idevice with its garbage cleaning option. Back up function of 3uTools enables you to back up and restore all your important data. You can view different statuses of your iPhone such as battery life, iCloud lock with 3uTools. It further provides you with detailed information about different systems in your device.
If you are unable to find the latest version of this most useful app, you are in the perfect place.
You can download the latest 2022 version of 3utools on your Windows PC using the download button provided below.
3uTools app information
Developer : 3uTools
Name of the software : 3uTools 2022
Latest version: 2.61
File size : 120 MB
Last update: 24/06/2022
Requirements for 3uTools 2022
PC or Lap having a Windows 7/8/10/11/Vista or mac operating system
The latest 2022 3uTools installation software package
iOS devices usb cable
Internet connection
How to Download and install 3uTools 2022 version for iOS devices.
3uTools can be easily installed on your windows running PC/ Laptop following a very simple process. You can simply use the above download button to download the latest 2022 3uTools version for free.
Please follow the below guide to download and install 3uTools on your computer with a minimum effort.
3uTools download steps
Step 01: Click the above download button to download the 3uTools 2022 installation package
Step 02: Once it is downloaded, open it on your computer.
Step 03: Click yes to continue
Step 04: Click on install button to start the installation process.
Step 05: once the installation is finished, click on the launch button.
Now you can use 3uTools to manage your iOS device.
How to use 3uTools for iOS devices
You have to connect your iOS device to the computer where you have downloaded 3uTools, using an USB cable. If they are connected properly, 3uTools will display all your iDevice information on its home screen.
Now you can manage your iOS device with 3uTools according to your requirements.
3uTools 2022 features
Download apps
Back up/ restore
Garbage cleaning
Data migration
Create ringtones
Convert video/ audio
Manage icons
File and data management'
Flash & jailbreak
View statuses
Real time log
Virtual location
Delete invalid icons
Open SSH
Delete invalid icons
Stop iOS update