iFunbox is a popular iOS manager software which brings some delightful features for Apple devices for no cost. It perfectly runs on Mac platforms so that Mac users can use it as a premier 3uTools alternative to manage their iOS devices.
What is iFunbox for Mac ?
IFunbox for Mac is a one of the major iOS device manager programs which lets you manage your iPhone, iPad, iPhone on your Mac. It is a reliable solution to fulfil most of your iOS device management needs such as transfer files between iPhone and computer, install apps, backup iOS data.

iFunbox lets you manage your iOS files on a user-friendly interface. You can effortlessly import and export photos, videos, music and many other types of data with just a couple of clicks.It is an excellent option to download and install the most useful iOS apps. It has its own app store which enables you to install IPA packages from an in- house distribution. Surprisingly, you can manage your iPhone, iPad or iPod as a USB flash drive. The tool also gives you access to the root file system of your iOS device.
It lets you explore the data in App Sandbox where iOS apps store and save data related to chat history, saved games, user accounts, in-app purchases and many other things.
When you connect your iPhone, iPad, or iPod to your computer, the tool starts reviewing the device file system and displays all files that are neatly grouped into categories.
Download iFunbox for Mac
Now you can free download and install the iFunbox latest version V1.9 on your Mac. Download process is so easy that any ordinary person can do it. Just click on the below button to free download iFunbox latest version on your Mac in 2023.

How to use iFunbox for Mac
First download iFunbox on your Mac. Simply click the above download button to free download ifunbox on your Mac.
Once download is complete, find the ifunbox app icon on the computer screen and double click on it to open the app file.
Then connect your iPhone, iPad or iPod touch device to your Mac using a USB cable.
Once your device is connected, open the iFunbox app.
If you are using ifunbox for the first time, click on the install button to download the relevant drivers for your device.
Once installtion of drivers is finished, you can see a list of files and folders on your device.
Now you can download apps, transfer files from iPhone to PC and enjoy all other features of iFunbox on your iDevice.
Features and Highlights
Import & Export photos, music, videos from iPhone, iPad, iPod touch
Install, uninstall iOS apps and games
Install and uninstall iOS apps and games
Import & Export Photos, media
Use iPhone as a portable USB flash drive
Create backups of files with couple of clicks
Configure apps to save power
Full control of the original iOS file system
Store and manage data in App Sandbox for contacts, chat history etc.
iFunbox app store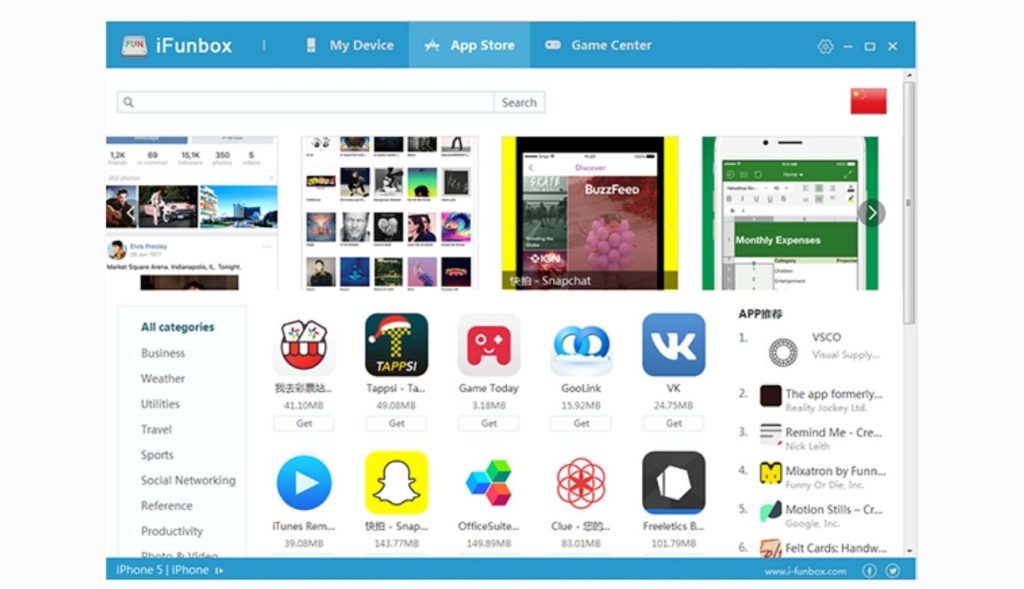 iFunbox – Store presents you some extraordinary apps under two main categories which are " application store" and " game center". You can effortlessly find your favourite games according to your taste.
It will recommend some of the most useful and interesting apps that you have never seen before.